Team Leader / Curriculum Design
Josh is a senior at Gallatin interested in philosophy, technology, and education. He is particularly concerned about emerging global issues that will be left for future generations, and believes education reform is crucially important as we further progress into the 21st century. Josh loves all things philosophically ambiguous, and thinks Parker needs to get a grip. "Turtles all the way down!" they said. So we made it that way.
Curriculum Design
Jessica is a senior in the Gallatin school of Individualized Study. She is focused on race, inequality, and the law. Jessica has studied educational inequality and specifically takes interest in the racial and economic discrimination that goes on in our education systems. Jessica plans to work as a Jewish Service Corps fellow in Budapest helping engage the Jewish youth and community. In her spare time she is probably chatting or tearing apart the dance floor.
Curriculum Design
Alaina is a senior in the Public Policy major in the College of Arts and Science and facilitated by the Wagner School of Public Service. She is focused on education, electoral, and criminal justice policy, particularly as it relates to young people. Education is one of the purest public goods in our country and she is interested in how education policy affects societal and civic participation. Alaina plans to work in electoral politics immediately following her graduation this spring.
Curriculum Design
Grace is a senior in the Gallatin School of Individualized Study concentrating in The Post/colonial Politics of Language. She is interested in postcolonial narratives of futurity and anti-institutional forms of belonging, particularly how they are constructed and deconstructed through language. Grace believes in the power of empathy in education as a catalyst for methods of decolonization.
Atrium Design
Emily is a junior at NYU Gallatin studying the intersections of sustainability, human-centered design, and consumer behavior. She believes that good design shouldn't be sacrificed when creating public goods. Emily believes the spaces in which students are raised has an enormous impact on their future development, and feels privileged to have the opportunity to design the space she would have liked to spend her time in at school. She says 'hi' to every dog she sees on the street.
Library Design
Nunnapat Ratanavanh is a junior at Gallatin studying the body, experience, and design. He is particularly interested in how ideas of the body in dance, circus, and religion, and how they can be used to inform design. He believes that the spaces we spend our time in have huge impacts on who we become, and that this is especially important in high school, which is often one of the most formative period of our lives.
Food Systems / EcoTecture Design
Parker is a junior at NYU Gallatin studying urban food systems, sustainable design and social entrepreneurship He believes education is the fuel of fluid systems that allow for the merging of ideas and sparks of social movements, paradigm shifts, and increased well-being for all. Parker hopes to integrate more ecologically conscious elements into the future of education and is an advocate for a systems approach to learning He loves a fresh, LOCAL salad and finds wisdom from farmers and inspiration from nature.
Hallway Design
Neva is a first-year at Gallatin interested in studying climate science, technology, and philosophy. She has attended numerous schools in various countries growing up. Having experienced many different school systems inspired her to consider the flaws and successes of each and apply these lessons to the project. She is hopeful that the project will inspire schools to design more natural places for learning in the future.
Natalia Martinez Trujillo
Classroom Design
Natalia Martinez T. is a Senior in CAS at NYU. As a double major in Metropolitan Studies and Urban Design & Architecture, she aspires to make a change in the way we interact with our urban environment, with the design principle of sustainability, or what she calls: the art of longevity. Natalia believes that education is the key to individual and collective freedom; it should foster social equity and community empowerment without compromising individual interest.
MakerSpace Design
Michael is a sophomore at Gallatin concentrating in Environmental Design. He plans to go to architecture school once he graduates. Michael enjoys jamming with his friends, building things, and walking across bridges. Says Michael, "educational spaces tend to designed for efficiency, but I believe everyone benefits more when we design instead for comfort, collaboration, and creativity."
Classroom Design / Gallery Curator
Sam is a freshman in Liberal Studies who plans to transition into Media, Culture, and Communication in Steinhardt. He has experience in graphic design—mostly for print and web—but is interested in exploring all sorts of media through the lens of bringing tangible benefit to communities. He is interested in generating reform starting with the most minute details: proper aesthetic decisions made in the school can shape its institutional character and the attitudes of its many stakeholders. Big fan of Herbert Bayer.
Ring Design
Gui Marcos is a junior at Gallatin focusing on sustainable architecture and socio-ecological design. He is interested in architecture and its relationship with the environment and within the city. After graduation, he hopes to go on to pursue his Master's in Architecture. Gui hopes the Paideia Project will convince legislators to put more money towards enhancing educational spaces.
MakerSpace Design / Model Construction
Alex is a freshman at NYU Tandon School of Engineering studying Sustainable Urban Environments. He has a passion for architecture, particularly in creating publicly driven designs. Alex believes the first step to improving our current education system is to provide students with a space that both inspires and facilitates their learning.
Model Construction
Arielle is a senior in Gallatin, studying human interactions with designed objects and experiences. She believes equal access to quality education is the starting point for a more equitable society. Her concentration is titled "Reenchantment by Design." In her spare time she picks up furniture off the streets of NY and DIYs robots that don't work.
Cafeteria Design
Georgie is a senior at Gallatin studying how people behave in physical space, based on the suggestions made by architecture and design. Her movement is connectivism- using art, writing, performance and music to create meaningful encounters between people. She enjoys cooking and sharing food with others and spends her free time biking, reading and playing Hungarian fiddle.
Model Construction / MakerSpace Research
Mac Adelman is a freshman at NYU Tandon School of Engineering studying Construction Management. He is interested in both educational and residential architecture and construction. He is inspired by his mother, an elementary school teacher, and he believes that schools should be designed and built to better engage young students.
Landscaping / Rooftop Design
Jimmy is a sophomore in the Gallatin School at NYU. He is building his concentration around sustainability and design. Jimmy works with graphic design, architectural design, and everything in-between. He is interested in the overlap of good aesthetics and functional sustainability. Through the Paideia Project, Jimmy has been able to get hands on experience in collaborative design, working with architects and fellow students.
Videographer & Editor
Ethan Chapman is a senior film student at NYU's Tisch School of the arts. He is a proud product of the Massachusetts public school system. Ethan believes video has the power to change the world, and thinks storytelling should be a required class for all students. Ethan is a strong advocate for using creativity within the school system to provide students with a wholesome experience inside and outside the classroom.
Videographer
Jonathan is a senior in CAS studying Computer Science and East Asian Studies. With a strong interest in the overlap of technology and culture, he believes that modern tech allows for an education system that can be tailored to students of varying backgrounds and learning styles. Jonathan also enjoys playing guitar, Argentinian soccer, and doing backflips in public parks.
Cosmopolitan Cuisine - Expo Booth
Benjamin is a senior in the Gallatin School of Individualized Study. His concentration centers on power and identity in organizational structures, usually governing bodies. He is also curious about how to rule the world and wonders if he needs to do some first-hand research for that. Benjamin is interested in how political and social forces both affect and are affected by education and strongly supports investing in early childhood development.
Tools & Toys - Expo Booth
Sarah is a senior at the Steinhardt School of Culture, Education, and Human Development. She is completing her dual degree in Childhood Education and Special Education. Sarah is interested in the development of reading and hopes to bridge the gap between traditional teaching resources and education technology. For her project, she designed an integrated picture mnemonic alphabet that is intended for a future learning-to-read app that will use three senses: sight, sound, and touch.
Symposium Guest Speakers & Discussants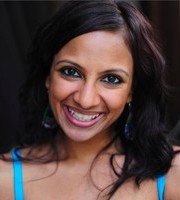 Architecture Discussant & Advisor